2021 Lake Update
We have 3 beautiful lakes. The North Lake is located on Baer Road, Tremont, IL across from AG-Land FS. The South East Lake is located on Baer Road, Tremont, IL behind Jack's Café. The South West Lake is located at the end of East South Street, Tremont, IL. The lakes offer fishing (permit required) as well as open areas for walking (dogs allowed on a leash only) and a trail for walking or bike riding. Please follow the social distance guidelines as listed below while visiting lake properties.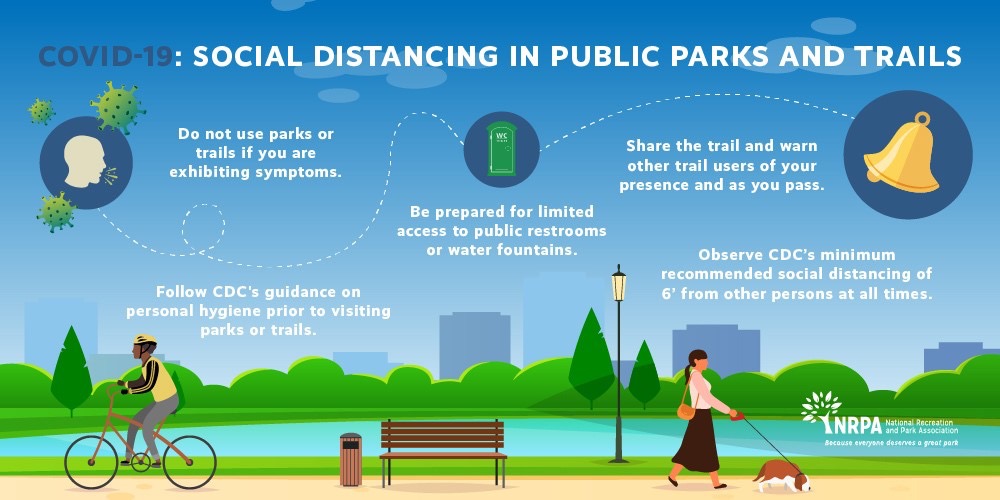 By order of the Department of Natural Resources, you must have a
State of
Illinois Fishing License
to
fish in the Tremont Lakes.
We asked that the social distancing guidelines are followed and reserve the right to close the lakes as needed for the safety of the community. Social distancing guidelines posted below include staying 6 feet from others.
FISHING PERMIT INFORMATION
BUY A TREMONT LAKES FISHING PERMIT -
We will have the standard permit application forms in the entryway of the park district office at the Fitness Center (22522 Illinois Route 9) You may complete the form and drop the form and payment in the dropbox provided. Our staff will contact you and complete the permit application process.
In-Person Options: Come to the Park District Office during staffed hours to complete the form and purchase a permit.
See Staffed Hours on Home Page.
On-Line Option - Read these instructions to the end.
(
Options include smartphone use, computer, email or calling in)
We are available by phone to provide assistance with this process.
Go to our website
www.tremontpark.org
Use the membership tab to purchase a fishing license and follow the prompts. If using a smartphone you will be allowed to upload a picture of your valid 2021 Illinois Fishing License. If using a computer you may scan and email it to us at
tapdfacres@gmail.com
Once you complete your waiver and transaction online you will receive a receipt. This receipt can function as your permit. We can also email you a permit that you can print and carry.
If you are unable to upload the license, please continue the online permit application including your license number and process the payment. We will then contact you regarding processing your permit.
For members that do not wish to enter information online, you may call the office at 925-3811 or email us your information at
tapdfacres@gmail.com
. We will call you and take the information over the phone, process the payment over the phone, and give you the instructions to complete the permit application process.
Fishing Permits
In order to purchase a fishing permit, you need to have a
2021 Illinois State Fishing License and pay the fee for the permit.
$25.00 Resident
$20.00 Senior Resident
$45.00 Non Resident
$20.00 For Exempt/Veteran/Military
Please be sure to check out our 2021 Fishing Rules & Regulations
One-Day Fishing Permit
You must have a 2021 Illinois State Fishing License and obtain a permit at the park district office or the pool.
$3.00 for a guest of a 2021 fishing permit holder
$5.00 for Residents
$10.00 for Non-Residents
The one-day permit does NOT apply to ice fishing.
ICE FISHING ONLY PERMIT
$20.00 Resident
$25.00 Non-Resident
ICE FISHING IS AT YOUR OWN RISK AND
DOES REQUIRE A LAKE FISHING PERMIT/SIGNED WAIVER
----------------------------------------------------------------------
Phase 4 Gathering Restrictions - Gatherings
Shelters - limited gatherings to groups of 50 or less. Please call the office and complete the reservation form and receive the rules and regulations for a gathering of 50 or fewer people per shelter.
Shelter reservations for larger gatherings are suspended at this time.
No Blow ups are allowed in the parks.
No Rummage Sales are allowed in the shelters at this time.
You may also rent the Sampson Street Building for no more than 50 people gatherings.
The building has approx. 3300 square feet plus a kitchen and batting cages after the required closures are lifted.
Click on the form below for park ordinances, conditions of use & rental prices.
2021 - SAMPSON STREET RESERVATIONS ARE LIMITED TO RESIDENTS ONLY AT THIS TIME AND SHOULD BE SCHEDULED THROUGH THE PARK DISTRICT ADMIN OFFICE 309-925-3811.
Under the following guidelines, all shelter reservations are restricted to groups of 50 or less.